OUR MISSION
Annapolis Pride celebrates the LGBTQ+ community, engaging local residents, businesses and groups to unite in welcoming and embracing diversity in Annapolis.
OUR VISON
Create a friendly, inclusive, and vibrant community where all people thrive.
OUR GOALS
Build visibility and awareness of LGBTQ+ issues

Create safe and affirming spaces where all people feel welcome

Connect the LGBTQ+ community with allies and resources
OUR PRIORITIES
Create a sustainable and viable organization

Annual LGBTQ+ Pride Parade & Festival

Advocacy
OUR STORY
It started with an idea between a couple of friends in the winter of 2017/2018 "…that maybe … just maybe … Annapolis should have it's own Pride Parade…."
A few months later Pomerantz Marketing created the logo and graphics.  A Facebook page was started and excitement began to spread. On June 19th, at the request of Annapolis Pride, Mayor Gavin Buckley made the official proclamation declaring June 2018 as LQBTQ+ Pride month for the City of Annapolis.
People quickly took notice and Annapolis Pride started hosting and promoting social events that began to unite the locals.  The attendance and enthusiasm made it very clear that the Annapolis LGBTQ+ community needed this.  A board of directors was formed and the mission and vision was set in motion to celebrate our community, engage with local businesses, and unite the city in embracing diversity and inclusion.
On June 29, 2019, the Inaugural Annapolis Pride Parade and festival was held on West St. in Annapolis, MD and attracted over 6,000 attendees!  The event featured 55 marching groups and 75 festival exhibitors made up of local nonprofits, businesses, and organizations.  June 2019, marked the 50 year anniversary of the Stonewall Riots in New York City, an uprising to resist harassment and discrimination against the LGBTQ+ community, which marked the beginning of the LGBQ+ rights movement.
We are so grateful for the support from the City of Annapolis, our participants, volunteers, sponsors, and thousands of attendees that made the Inaugural Annapolis Pride Parade & Festival a success.  It was a day filled with love, tears, and joy for the LGBTQ+ community.  Thank you Annapolis.
We love our city and want it to be a place where all people feel safe and included, where those who may need help or support can find it, and where our business and civic leaders embrace the vision that an inclusive community is a thriving community. Annapolis Pride is grassroots, all volunteer nonprofit organization.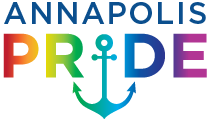 CELEBRATE. ENGAGE. UNITE.