Submit Your LGBTQ+ Event to the Annapolis Pride Community Calendar
Annapolis Pride is committed to creating and supporting safe and affirming spaces in Annapolis and Anne Arundel County.  To submit your event, please click the link below and fill out the event submission form. All submitted events must meet our guidelines and be approved by Annapolis Pride.  Please allow up to three days for your event to be approved. Some users have had issues submitting events using the Chrome browser, if you have trouble, please try a different browser. For more information, or to edit any previously submitted events, please contact info@annapolispride.org.
Guidelines
Thank you for your submission of an LGBTQ+ event to our Annapolis Pride Community Calendar webpage. Please note the following criteria for listing your LGBTQ+ event on our website:
All LGBTQ+ events must take place within Annapolis or Anne Arundel County.
All LGBTQ+ events must be open to the public; either with or without a charge. ( no "membership only" events)
All LGBTQ+ event submissions must be specifically for our LGBTQ+ community; must include a horizontal photo, sized at 600 x 400 pixels.  Events submitted without an accompanying photo that meets these requirements will NOT be published.
Annapolis Pride reserves the right to edit and to post submitted events at our discretion. By submitting this form, you represent that you have the right to use all text, images, logos, and other materials contained in the application and the resulting listing, including without limitation copyrighted and trademarked material.  Annapolis Pride is not responsible for policing or reviewing submitted materials for copyright or trademark protection and will not do so.  You agree to indemnify and hold Annapolis Pride harmless for any and all claims relating to or arising out of the contents of the published listing.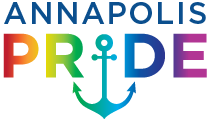 CELEBRATE. ENGAGE. UNITE.