Valerie Anias
(she/her)
Val joins Annapolis Pride as a board member and member of the Governance Committee and Advocacy & Communications Committee.  She is the founder and owner of A Team Family Law, LLC, a local family focused law firm in Annapolis, Maryland.  In her practice, Val is passionate about assisting underrepresented individuals and advocates for her clients irrespective of their gender, race, sexual orientation, and family status.  Val is a resident of Anne Arundel County and lives with her wife, kids, and dogs!
Katie Connolly
(they/them)
Board Vice Chair
Katie Connolly has over 12 years of accounting experience in the private and public sectors. Currently, they manage the budget for the City of Annapolis. Katie looks forward to bringing their experience to Annapolis Pride to help advance its mission and expand its reach. Katie lives on the Eastern Shore with their wife and two sons. They try to live every day by following the adage, "Be who you needed when you were younger". With that in mind, they are passionate about creating safe and affirming spaces while increasing visibility and awareness of the LGBTQIA+ community.
Jaden Farris
(he/him)
Board Secretary
Jaden is committed to building a safe and inclusive community in Anne Arundel County. This is evidenced through Jaden's inquiry-based approach in identifying the root causes of inequity in Anne Arundel County community, and then working collaboratively with other's to find solutions. Jaden, among other leaders in the LGBTQ+ community successfully lobbied the Anne Arundel County Board of Education in passing the Safe and Inclusive Environment's for LGBTQ+ Students. In February of 2022, Jaden successfully passed an LGBTQ+ Studies Course for Anne Arundel County Public School's students – for which he developed.
Jaden wears many hats throughout the AACPS community and at-large. He has served as Vice President of the Regional Student Government for AACPS – helping to lead the direction of student voice in AACPS, a social justice leader within many school-wide and district-wide clubs and organizations, and as a member of the Superintendent's Advisory Council, amongst other hats. He interned in the AACPS Office of Equity and Accelerated Student Achievement, where he assisted in the development of Equity Professional Development and offered guidance on school culture best practices. He served as a student member of the Annapolis Pride board as a high school Senior at South River High School in 2022-2023. He is now serving a regular board term and is a student at University of Maryland Baltimore County.
Christine Feldmann
(she/her)
Advocacy & Communications Committee Chair
Christine (she/her) currently serves as the director of marketing and communications where she provides strategic communications advice for the Anne Arundel County Public Library CEO and Board of Trustees. She is responsible for all communications efforts on behalf of the library's 16 branches and more than 300 full-time staff. 
Formerly, she served as deputy director of communications for Comptroller Peter Franchot and in positions of increasing responsibility for former Governor William Donald Schaefer during his tenure as Comptroller. Before officially joining state government, Ms. Feldmann was the communications manager for the Maryland Commission for Celebration 2000, an organization designed to commemorate the millennium. She began her career in special events at the Chesapeake Bay Foundation and in media relations at the U. S. Naval Academy. 
Feldmann has a Master of Public Policy and Bachelor of Arts in Journalism from the University of Maryland. She has guest lectured at the University of Maryland's School of Public Policy and Anne Arundel Community College. In addition to her public relations work, she also serves as the grants administrator for St. Margaret's Church where she is responsible for the program that has given out more than $2 million since its inception. She and her husband Ray, live in Annapolis with their twins, Connor and Grace (16)
Mastin Fowler
(he/him)
Governance Committee Chair
Mastin joins Annapolis Pride as a board member and co-chair of the Governance Committee. He manages a department of legal professionals from the D.C. office of an international law firm based in New York City, where he has spent most of his days (and some nights) since 2014. Prior to transitioning into management, Mastin was a senior paralegal supporting a global team representing key firm clients with governmental and internal investigations relating to anti-corruption and the Foreign Corrupt Practices Act. Recognizing the need to build and nurture welcoming, safe, inclusive, and supportive professional spaces, he is an active member in his firm's U.S. Spectrum LGBT+ Affinity Network's Communication Committee and in the International Practice Management Association's D.C. Chapter and Emerging Trends Committee.
Mastin is a graduate of George Mason University where he majored in Geography and double-minored in Urban Studies and Sub-Saharan African Studies. He has called Virginia, Hawaii, NYC, and D.C. (the longest at 23+ years) home, but is now an Annapolitan (since 2020), where he lives just off of West Street with his husband (Chris) and dog (Frankie).
When he's not in front of his laptop, Mastin is usually spending time with his family, traveling, riding his bike, walking around town (usual spots are City Dock, Poplar Trail, Eastport, Murray Hill, or Quiet Waters), reading, listening to music, napping, or in search of, or already drinking, a coffee or seltzer. Mastin is thrilled for this opportunity to serve on the Annapolis Pride Board of Directors to continue to help build the organization and to bring his experience, skills, and
constructive activism to Annapolis and beyond.
Chris Haley
(he/him) 
Director of Research for the Study of the Legacy of Slavery in Maryland at the Maryland State Archives, Director of the Utopia Film Festival in Prince George's County, and current Annapolis Film Festival Advisory Board Member. Additionally, he has served on the following boards: Kunta Kinte-Alex Haley Foundation, Historic London Town Foundation, Jake Savage Foundation and the Annapolis Arts Alliance Foundation. His script for the 2004 The RECONCILIATION WALK for SLAVERY and PENITENCE held in Annapolis on September 29 helped garner the Maryland Tourism Council Global Marketing Award for the Kunta Kinte-Alex Haley Foundation. He has spoken on genealogy, African American history and self-empowerment on many occasions including: the 2002 African American Genealogical Conference in Los Angeles, California, the 2000 Millennium of Ethiopia Celebration in Washington, DC, the 2008 and 2007 Federation of Genealogical Societies Conventions,  the 2013 Texas Library Association, the 2014 Afro American Historical & Genealogical Society in Nashville, Tennessee, 2014 Presidents' Day Address in the Maryland Old House of Delegates Chamber and at the 2016 International Roots Festival in The Gambia. The story of his DNA test that resulted in his discovery and reunion with relatives from the British Isles in 2009 was covered by innumerable news outlets including USA Today and the Huffington Post.
As an actor, performer, writer, and director, he is co-director of the documentary, Unmarked, currently airing on PBS.ORG under the REEL SOUTH series, and accepted into, among others, the New Orleans and Savannah Film Festivals, on the state of often unknown burial sites of free and enslaved African Americans. He has appeared on HBO's, The Wire, TV ONE's, For My Man, ID Network's, Relatively Evil, the PBS Special, Partners of The Heart, and in productions of Aint Misbehavin', Joseph and the Amazing Technicolor Dreamcoat, Jesus Christ Superstar, Six Degrees of Separation and Godspell. As a writer, he has had his poetry published in Washington DC's, Hill Rag, and his script for The Studio garnered him a 2001 Individual Artist's Award from the Anne Arundel County Arts Council.
David E. Jones
(he/him)
David is a Certified Public Accountant (CPA) with more than 25 years of professional experience. However, what defines him most is his enthusiasm for life, finding the fun in every situation, and making those around him laugh.  He joins the board with a passion for continuing the momentum and growth of the Annapolis Pride Parade and creating more visibility throughout all areas of Anne Arundel County for the LGBTQ+ community, especially youth. David grew up in a small town on Maryland's Eastern Shore and has lived in northern Anne Arundel County since 1999. He graduated from the University of Delaware and has served as the chief financial officer of the Maryland Workers' Compensation Commission in Baltimore since 2008.  In addition, David serves as transportation manager for The Hollywood Christmas Parade in Los Angeles, overseeing all celebrity transportation for the annual parade.
Dennis McGowan
(he/him) 
Board Treasurer and Internal Affairs Committee Chair
Dennis is committed to bringing more visibility to the LGBTQ+ community. As a proud uncle, it is important for him to be an example of living authentically and being inclusive. Originally from Pennsylvania, McGowan started his career at PwC specializing in auditing public and private companies in the financial services industry. As Vice President of Professional Practice at the Center for Audit Quality, McGowan currently leads a team of audit executives to advance technical and policy-oriented projects to identify, develop, and seek consensus on issues affecting the public company auditing profession.
McGowan is a Certified Public Accountant licensed in Pennsylvania, and holds a BS in Business Administration from La Salle University. Dennis looks forward to bringing his professional expertise and experience to further support the mission of Annapolis Pride. When not working or traveling, McGowan can be found exploring Annapolis with his boyfriend Kevin and their perfect dogs Guinness (a rescue) and Maggie (a golden doodle).
Jessica Parsell
(she/her)
Jessica graduated from Towson University with her bachelor's in theater arts and obtained her master's degree in special education in 2021. She is in her eighth year of teaching performing arts at The Harbour School in Annapolis. She revels in helping her students gain confidence and empowerment through theater. Jessica is very passionate about utilizing the arts as a way to uplift, educate, and empower communities. She was a founding member of The Oven Theater Company in Baltimore, MD, a theater company for social change. Jessica lives in Annapolis with her wife, Megan, and their three dogs. When she isn't busy working on a show, she enjoys nature and spending time with friends and family. She looks forward to working with Annapolis Pride to help advance its mission and find ways to merge her love of community, the arts, and outreach.
Jazzmyn Proctor
(she/they)  
Jazzmyn is committed to advocacy and lifting the voices of the LGBTQIA+ community in Annapolis and the surrounding areas. She is currently a graduate student at Hood College studying Clinical Mental Health Counseling. With experience in community outreach and engagement, she is excited to be able to bridge connections and assist in reaching a broader audience to advance the Annapolis Pride mission. She enjoys reading, cooking, and being outside.
Josh Seefried
(he/him)
Josh Seefried is an Air Force veteran and co-founder of OutServe-SLDN, the association of lesbian, gay, bisexual and transgender members of the U.S. Military. A graduate from the U.S. Air Force Academy in 2009, Josh was formerly known by his pseudonym JD Smith during his campaign to end the discrimination against lesbians, gays and bisexuals serving openly in the United States military.
Using social networking tools such as Facebook, Seefried organized LGBT active-duty military personnel into an underground association OutServe. To preclude outing himself as gay while serving on active duty in the Air Force, a violation of the then- Don't Ask, Don't Tell policy for which he could have been prosecuted and discharged, he assumed the leadership role and interacted with the media and officials in the Pentagon and the White House using only his pseudonym. He appeared on CNN, HLN, and MSNBC in shadow; additionally, his comments continue to be regularly sought after by the media as a representative of lesbian, gay, and bisexual actively-serving military members.
Josh currently works as the external lead for Strategic Communications of the Office of Information and Technology and Chairs the LGBTQ+ Sub-Group at Veteran Affairs.
Sarah Sample
(she/her)
Events Committee Chair
Sarah will take over as chair of the events committee leading the wildly successful Annapolis Pride Parade and Festival scheduled for June 3, 2023. She has 10 years of experience in entertainment venue finance, booking, and marketing, having spent 7 years at Live Nation Entertainment and 3 with Rams Head Group. Sarah left Live Nation in 2019 to work in local government. She is currently an Associate Policy Director for the Maryland Association of Counties, a non-partisan, non-profit that represents the needs of local government to the Maryland General Assembly.
Joe Toolan
(he/him)
Board Chair
Joe's day job is at the National Fish and Wildlife Foundation as Manager of Chesapeake Bay Programs. He leads the Diversity, Equity, Inclusion, and Justice (DEIJ) work in the Chesapeake, and implements grant programs for a total impact of almost $90 million a year. He has a background in community stewardship, behavior change, and building capacity in and networks of non-profit organizations. He earned his Bachelor's Degree in Geographical Sciences with a concentration in Environment Systems and Natural Resource Management from the University of Maryland, College Park and an Executive Certificate in Nonprofit Management from Georgetown University.
Joe, born in Guatemala, was adopted in the 90s and grew up just outside of Annapolis. He identifies as a queer, Latinx, indigenous, transracial international adoptee and environmentalist. He is excited to bring his prospective and intersectional identities to Annapolis Pride to advance its mission. Outside of Annapolis Pride, Joe is likely listening to music, talking to friends, or finding his next creative endeavor. Joe is also the Chair of the State of Maryland Commission on LGBTQ Affairs, a Planning Committee Member for the Naturally Latinos Conference, and a Planning Committee Member for the Chesapeake Watershed Forum.
Jayne Walters
(she/her)
Jayne Walters is a former board member and the director of education for Indy Pride and was the first openly transgender manager in the history of Indianapolis Public Library. Having worked in libraries for over 14 years, she now works for the Anne Arundel County Public Library, and her writing has been featured in Library Journal and Children & Libraries. She has spoken on LGBTQ+ issues for libraries, companies, and on the news, and is a contributing author in the book Trans and Gender Diverse Voices in Libraries (2023). Her passions include LGBTQIA+ representation in juvenile literature; making sure libraries are accessible and equitable for the community and making them a safe and welcoming environment for all.
Tim Williams
(he/him)  
Tim spent more than 35 years on the staff of a large nonprofit organization, and before that worked on Capitol Hill and for the Maryland General Assembly. He received a bachelor's degree in Government and Politics from the University of Maryland. His professional experience includes federal and state advocacy, communications, volunteer engagement, program management, grant development and administration, and executive management. He also staffed a board strategic planning committee. As a volunteer, he served on the board of Equality Maryland and as Chair of the Equality Maryland Political Action Committee. 
Tim has two adult daughters, both AACPS teachers working in Annapolis, and three grandchildren. He and Jessie, his partner of 20 years, are also devoted dog dads to a six-year-old rescue pointer named Remmie. 
Tim has been amazed by the rapid growth of Annapolis Pride and wants to use his skills and experience to strengthen the organization and broaden its already-significant impact.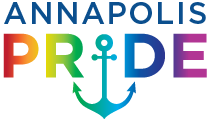 CELEBRATE. ENGAGE. UNITE.