Leslie Anderson
(they/them, first name, or she/her) is a certified project manager and Agile practitioner with more than 30 years of professional leadership, strategy, management, programming, and analysis experience, in the private and public sector arenas of eCommerce, defense contracting, civilian government, human resources, health care, tax administration, and construction project management.
Currently a Solutions Architect manager for K2 Construction Consultants, Leslie has worked at Johns Hopkins University Applied Physical Laboratory (JHUAPL) as a radar graphics programmer before and during the Gulf War, and for a major web hosting company with international clients.
Leslie is a Project Management Institute Project Management Professional (PMI-PMP) and Agile Certified Professional (PMI-ACP). They have a Master's Degree in Computer Science from Johns Hopkins University and a double-major Bachelor's degree from Goucher College in Mathematics and Computer Science. Leslie has received various performance and team building awards for her work on enterprise business technical projects.
A board member of Annapolis Pride and Vice President of the Annapolis/Anne Arundel County Chapter of PFLAG, Leslie lives in Gambrills, Maryland with their husband and their college Sophomore who is currently attending New York University.
Leslie enjoys travel, fine food, and friendships, including those they have made in the LGBTQ+ community. Leslie is a voracious reader of books, including those from the Crofton Library.
Jeremy Browning
(he/him/his) Jeremy is committed to creating a safe and welcoming community for LGBTQ+ people in Annapolis and the surrounding communities. In the winter of 2018, Jeremy and a small group of LGBTQ+ community members and allies joined to create Annapolis Pride with the goal of creating safe and affirming spaces and increasing visibility and awareness of the LGBTQ+ community.
In addition to his role as Board Chair of Annapolis Pride, Jeremy serves on the Human Relations Commission for the City of Annapolis, is a member of the Annapolis Police Department Chief's Advisory Team, and is an active participant with the Eastport Working Together community group.
Deborah Callahan
(she/her/hers) Deb Callahan is a visionary and highly skilled non-profit leader, with nearly thirty years of industry experience in program development, education, outreach, and systems evaluation.   Currently, the CEO of a national energy efficiency non-profit, Deb brings expertise to Annapolis Pride in the areas of development, strategy, board education and governance.   Deb holds professional certifications such as Certified Association Executive (CAE), certified professional mediator (CNPM) and conflict resolution specialist, Certified Board Educator.
Aside from her professional background, Deb's ongoing commitment toward giving back is reflected in a variety of volunteer efforts including assisting young women build their business portfolios, and speaking on women's leadership.    She lives in Annapolis with her wife Emilie.
The Rev. Diana Carroll
(she/her/hers) The Rev. Diana Carroll serves as the Rector of St. Luke's Episcopal Church in Eastport, a welcoming and inclusive congregation with a commitment to caring for creation, assisting those in need, and engaging with the surrounding communities. Pastor Diana guided St. Luke's through the creation of a four-acre stormwater mitigation and ecosystem restoration on the church's property, which is now serving as an environmental education campus. It's open from dawn to dusk, so come by and take a stroll down the beautiful trails!
Pastor Diana lives here in Annapolis with her wife, the Rev. Sarah Lamming, who is the Rector of St. Mary Magdalene Church in Silver Spring, MD.
Mariah Davis
(she/her/hers) Mariah manages outreach, grassroots advocacy, and civic engagement efforts in support of the Choose Clean Water Coalition's policy priorities at the National Wildlife Federation. Mariah coordinates conservations organizations throughout the Chesapeake Bay jurisdictions at the local, state, and federal level to protect clean water. She has a passion for equal rights and regularly engages with elected officials to combat injustices facing marginalized communities. Other interests of hers include live music, local politics, Netflix, red wine, and anything beach related.
Kathy Floam Greenspan
(she/her/hers) Kathy Floam-Greenspan is the President & Strategy Director of Pomerantz Marketing, the Annapolis, Maryland-based strategic marketing agency that brought Jeremy Browning's vision for Annapolis Pride to life by developing the brand for the organization. Having lived in Key West, Florida after graduating from college, Kathy experienced first-hand the many positive benefits the LGBTQ community brings to a city and thought Annapolis would benefit from this as well. It has been incredibly inspiring for her to see how the community has opened its arms to embrace Annapolis Pride and she looks forward to building on this in the years to come. Kathy lives in Annapolis and enjoys life on the Chesapeake Bay with her husband, stepson and golden doodle Summer.
Molly Hammond
(she/her/hers) Molly Hammond is a marketing professional who has moved all over the country, landing in Annapolis in 2015. As a friend and ally of the LGBTQ+ community, Molly was eager to help when her friends and colleagues were working to launch Annapolis Pride. She has been honored and proud to watch this organization grow so quickly and be embraced by the local community.
Molly lives in Annapolis with her husband, Mike, and hopes to stay in this community for as long as the Navy lets them.
Mark Hildebrand
(he/him/his) Since 2009, Mark Hildebrand has been executive director of Make Your Mark Media, Inc., a Maryland-based nonprofit film company. He has directed and produced two feature documentaries that have been aired on public television. Brookeville: Capital for a Day was first aired on Maryland Public Television in August of 2015. Anthem: The Story Behind The Star-Spangled Banner has had multiple broadcasts on public television stations nationwide since 2012.
In 2013, Mark helped create The Anthem Project – an online resource for teachers with lesson plans and activities for 4th-grade and 8th-grade classrooms based on video segments from Anthem. He has also created films for the National Park Service, Farragut Films, The Maryland-National Capital Park & Planning Commission and Prince Georges Heritage, Inc.
Sheren Kelly Riker
(she/her/hers)  Sheren is a retired systems engineer who now volunteers at the Smithsonian Environmental Research Center and with the Reel Affirmations Film Festival.  She has been active in Transgender issues and was formerly the President of the Transgender Education Association and is a supporter of the National Center for Transgender Equality.  As a Board Member of Annapolis Pride, Sheren chairs the Community Relations Committee.
Eric Lund
(he/him/his) Eric first moved to the Annapolis area in 1986 fresh out of high school and knew he had found his permanent home.  He has been active in local Annapolis theater since that time working in many facets include directing, acting, lighting design and stage managing for the Annapolis Symphony.  Eric is honored to help the dedicated people of Annapolis Pride build and strengthen the presence of the LGBTQ+ community in Annapolis and Maryland.
When not helping to bring pride to Annapolis Eric works as a software engineer for the Baltimore Shock Trauma Center research department.
Dr. Misan Pessu, MD
(he/him/his) Dr. Pessu is originally from Nigeria. He moved to the United States in the late 90s and grew up in Maryland. He is interested in efforts to mitigate health care disparities, particularly medical and mental health conditions that disproportionately affect minority groups including the African American community and the LGBTQ+ community. He currently practices in Annapolis Maryland.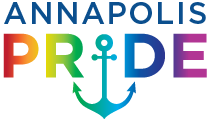 CELEBRATE. ENGAGE. UNITE.