PRIDE INDIVIDUAL SPONSORS*
MONICA ALVARADO  MICHAEL, LESLIE, AND SOFIA ANDERSON BROIDA PATRICK ARMSTRONG SARA BAIG SUE & AZAM BAIG ROB BEALL & JEFF HELFRICK RANDY BRANCH BRANDON BRATCHER JEREMY BROWNING PATRICIA & ROBERT BROWNING MARC DORMAN & EVAN GILLIGAN DEB CALLAHAN & EMILIE STAFFORD NOEL ELOFF MARK E. FEEN CHRISTINE & RAY FELDMANN MASTIN  T. FOWLER ANNE GOTIMER MARK L. HILDEBRAND MICHELLE EVE HURWITZ ERIC & MICKY LUND KEN MICHAUD & JOHN BRASSEUX SHEREN RIKER DANA SCHALLHEIM NANCY SCHMID DONNA SITA MARK SPRINGLE ANN WHITE TIM WILLIAMS & JESSIE SCRIBNER AMY WINDHAM *Pride Individual Sponsors donated $250 & up in 2020, 2021, and/or 2022. Please email info@annapolispride.org if your name should be on this list!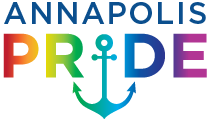 CELEBRATE. ENGAGE. UNITE.